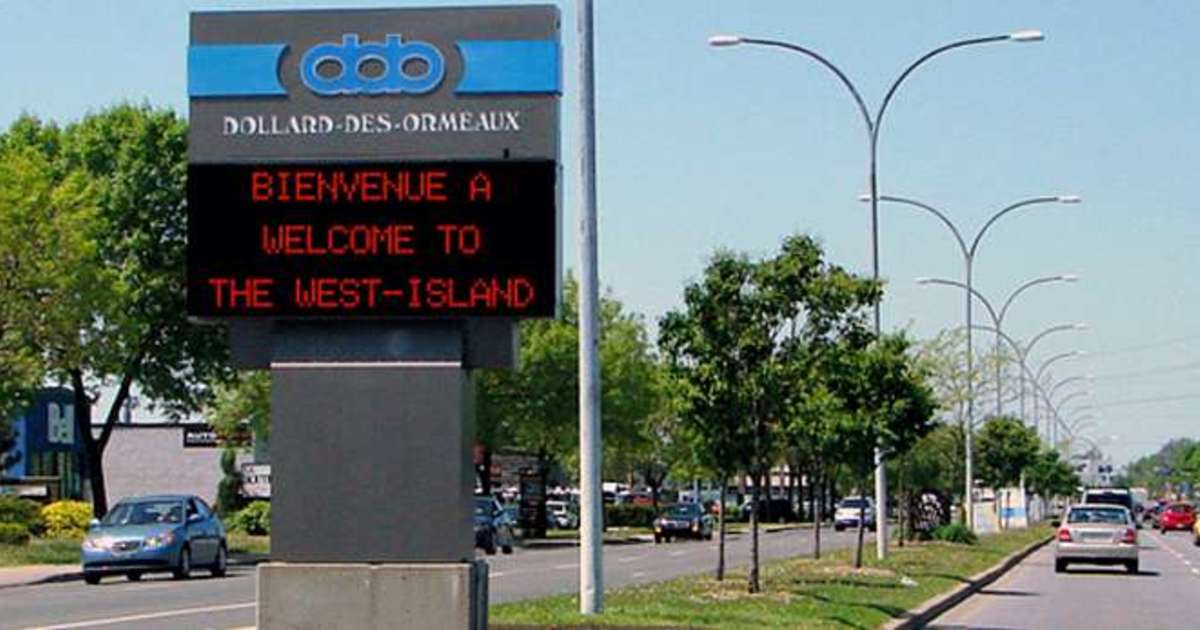 Welcome to the West-Island of Montreal! The West Island is the name of western end of the Island of Montreal, in Quebec, Canada which consists of the cities of Dollard-des-Ormeaux, Pierrefonds, Kirkland, Dorval, L'ile-Bizard, Beaconsfield, Senneville, Baie-D'urfé and Sainte-Anne-de- Bellevue. With a population of approximately 234,000, the West Island has acquired a charm with its cultural diversity, attractions, high standard of living, great schools and community life.
Due to the geographic location of these western suburbs, Vaudreuil, Hudson, L'ile-Perrot, Saint-Lazare and Pincourt are also in some cases considered to be part of the West-Island. The same thing goes for Saint-Laurent, Lachine and Lasalle. This is mostly because of the amount of bilingual residents, and other similarities such as services available, quality of life and geographic proximity to one another.
The West-Island is home to the Montreal Pierre Eliotte Trudeau Airport, Cégep Gerald Godin, John Abbott College,  the Fairview shopping center, Gallerie Des-Sources shopping mall, Pointe-Claire shopping mall as well as Montreal's largest park, the Parc de Nature Cap-St-Jacques. There are several other large parks on the West-Island such as Bois-de-Liesse, as well as Centennial park in Dollard-des-Ormeaux. Hospitals include the Lakeshore General Hospital in Pointe-Claire, as well as the Veteran's hospital in Sainte-Anne-De-Bellevue.
The West Island is also known for several other points of interests, such as:
Centennial Park, Fritz Farm, Église Sainte-Geneviève, Centennial Hall in Beaconsfield, The Morgan Arboretum, Saint-Joachim de Pointe-Claire Church in the Pointe-Claire Village. The Museum of Local History and Heritage, Fort Senneville, as well as Stewart Hall in Pointe-Claire.
The West-Island carries a reputation for it's great schools.  Due to the bilingual nature of the West-Island, there are several notable schools for English and French speaking:
Academie Kuper, Academie Marie-Claire, Academie Purcell, Academie Sunshine in Pierrefonds, Ecole Chrétienne Emanuelle in D.D.O, Ecole Secondaire Des-Sources, Ecole Secondaire Saint-Thomas, Polyvalente Pierrefonds, École Marguerite-Bourgeois, Margaret Manson Elementary School,  to name a few.
The West-Island has developed a reputation of being an excellent place to live in for great communal life, excellent schooling and having great points of interests. Whatever you and your family are searching for, the West-Island is sure to have it !
COMMUNITY SERVICES
The West Island Community Resource Centre (CRC) is a non-profit organization dedicated to improving individual and collective well-being in the West Island. The CRC provides information and referral services to citizens, and in collaboration with its community partners, it aims to strengthen the development of the community sector. Our mission is to connect, promote and support the West Island community.